TVB has been giving newbies lots of opportunities recently. I think that I tend to like someone's acting easily as I don't think I'm very picky. Here are 4 newbie actresses that we've been seeing on screen recently.
Mandy Wong
黃智雯
Haven't got much to say about Mandy because I think she's very very good. It already seems like I've seen her on screen for a long long time now, all her portrayals have been convincing. I would like to see her in a series where she isn't stubborn or annoyed lots, as most of her characters seem to be like that. I can see her leading a series in the future. Not in the near future, but not too far way either.
Cilla Lok
樂瞳
My first impressions of Cilla was from "Yes Sir, No Sir". Many people complimented her acting there. Even though I was fine with her acting there all I remembered from her was her yelling and yelling in a high pitched voice. Her next series was "River of Wine" and all I got from her there was yelling and yelling in a high pitched voice again.
She then played her very different character, her autistic character in Forensic Heroes III. No yelling in that series, but even though she was only in a few episodes in FH3, her performance was believable to me and I started to have a positive attitude towards her acting.
She's continuously improved to me. This year she has been in 3 series, Daddy Good Deeds, Witness Insecurity and
Three Kingdoms RPG

.
I liked her performance in all 3 series.
Cilla has a rather youthful look. I wonder if she'll get a mature role sometime. Maybe she could portray a young single mother sometime? It'll be nice to see her interacting with a child!
Christine Kuo
苟芸慧
I've seen Christine in The Life and Times of a Sentinel, Super Snoops and Tiger Cubs. I don't remember her character much in the first series apart from she was dubbed. I liked her performance in Super Snoops, which was the first series I saw her in. I think because it was a comedy show her acting didn't have to be that great to be enjoyable, but I didn't think there was anything wrong with her acting in SS.
Then I saw Christine for the second time in Tiger Cubs, both her character and acting annoyed me. Her crying scene made her speech inaudible. She already has an accent, and the way she deepens her voice when she cries makes everything worse.
Again, in
Ghetto Justice II
,
she does that low pitched mumbling again when her character just meets Law Ba again, only to find out that the love of her life is in a relationship with someone else. Christine always has the same expression on her face too. I watched an interview of her in Green Room (今日VIP) and she had that same expression again. Every time she appeared at the start of the series her acting annoyed me a little, but that annoyance receded as the series went on. I think I was annoyed at the start because I was still remembering her acting in Tiger Cubs.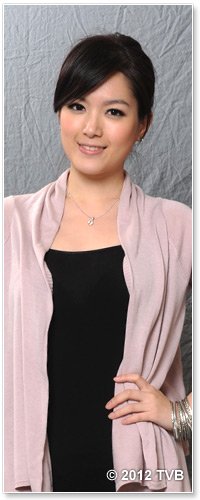 I don't think Christine's acting is great. In my opinion TVB should give her smaller roles for now so she can concentrate on them. It's also more tolerable to see a weak actress with a minor-ish role. I think if someone else had her character in GH2 the show would have been more enjoyable. Still, there's a few more episodes, maybe she'll do something to wow me!
Still, good for Christine to take up this opportunity. I would guess that from GH2, she would've learnt and picked up lots of acting skills, since the majority of her on screen partners are very experienced actors. If she improves I'll be very happy to see her on screen, as she is a new face (admittedly not for longer as she'll be in 3 new planned series too, including Beauty at War II where I hope she gets dubbed). But for now, she needs to brush up her acting and accent. I don't mind her accent too much, but I would prefer it to be more neutral, and that would make her more suitable for ancient dramas too.
JJ Jia
賈曉晨
The first time I remember seeing JJ was in "Short of Love" with Wong Cho Lam. For some reason, I thought she was a leng mo (sorry sorry JJ!). I only realised she was an actress when I saw her in "Beauty has no Pain". I don't remember how I thought of either performances, as I only started noticing her in "'L'Escargot".
I heard of a lot of people attacking JJ, thinking that she isn't natural and a bad actresses. Personally I like JJ. She's played different characters so far, shy and reserved in L'Escargot, evil in scheming in House of Harmony and Vengeance, and her caring character in Ghetto Justice II.
I thought that JJ's character in L'Escargot had a mental disorder so that she's scared of other people. Turns out she was just shy. But otherwise, I thought her scenes with Ron were excellent, from when she's with him getting over Linda, to when she decides to leave their relationship to leave Ron and Linda together, to when Ron chooses her. I thought that her performance in HOHAV was her weakest, but still pretty good, I could see some evil-ness in her and felt sorry for her when she became good again but got rejected by the man she loved. Loved her performance in Tiger Cubs though, another evil role. I think being with Kenneth might have helped her get into character!
Enjoyable performance in
GH2
too. Her character hasn't been very interesting to me so far but there's still a few more episodes so maybe I'll see something new from her soon!
Like Christine she has an accent. I find her's much more tolerable though. I find that she can talk quicker than Christine too, who sometimes sounds as though she's trying very hard to pronounce her words clearly. I watched JJ on the Tiger Cub special and I thought her cantonese had improved there also.